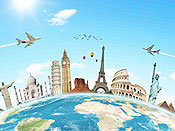 Welcome to
FOREVER TRAVEL a wholesale tour operator with dedicated professional staff providing comprehensive range of tourism industry services. We follow our knowledge, our experience and our interests seeking clients with matching needs.
FOREVER TRAVEL was first established by qualified professionals with more than twenty years of experience in the tourism industry. Customer Satisfaction ,Quality and Competition, Honesty and Integrity, Accountability and Fairness ,Good Communication ,Team Work are part of FOREVER TRAVEL . We are fully registered agency (under regd no: 3495/2014) . Our specialized departments offer a diversity of services with each department works independently to provide the best service to our customers, targeting their friendship and a long lasting relationship forever
Our tourism related service covering all countries with wide range of products to offer related Group holiday , Meeting....
View More
Services